Francis Albert Riehle was born on May 18, 1863, in Perintown, Ohio, son of Clemens Riehle, 29 and Cornelia (Mohr) Riehle, 27. He married Anna Catharine Rapp on February 16, 1886, with whom he had 12 children. Anna passed away on December 8, 1916, in Perintown, Ohio, at the age of 50 after 30 years of marriage. Sixteen years later on April 6, 1932, at age 68, Francis married Mary Frances Valter, aged 70, in Milford, Ohio. Mary had eight children from a previous marriage to Alexander Drone who died in 1925. After nine years of marriage to Francis, Mary Frances passed away in 1941 at the age of 79, Francis survived for another 10 years and died on November 1, 1951 at the age of 88.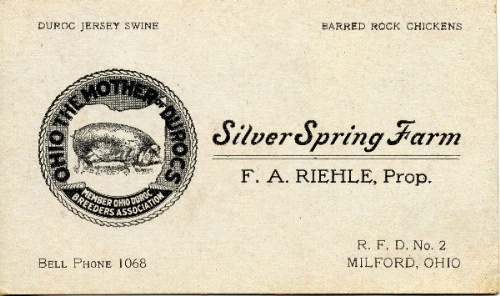 On the 1900 Census, "Frank" is listed with occupation of "Farmer". The address is general for Milford and surrounding area but presumably they farmed in Perintown (Milford post office) where he was born and which house and property is still owned by his granddaughter Theresa (daughter of Charles).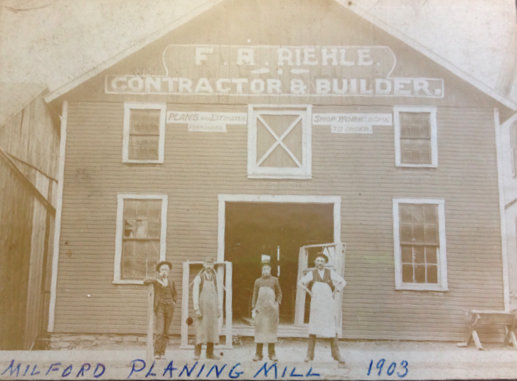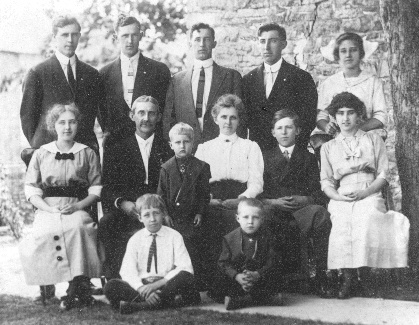 Our best guess on the above family portrait:
(with recent update based on the comment, below)
Top Row: John, Louis, Clarence, Albert, Rose (Rosalia);
Middle Row: Cornelia, Francis (father), William, Anna (mother),
Ray (Ralph Raymond), Mary Alice
Sitting on the ground: Leo & Charles.
Please reply below if we have any of these out of place!
~ ~ ~
Based on the age of the younger children we would estimate this
picture was taken about 1912. Anna died in December, 1916 at age 50.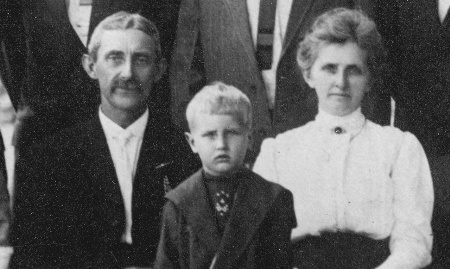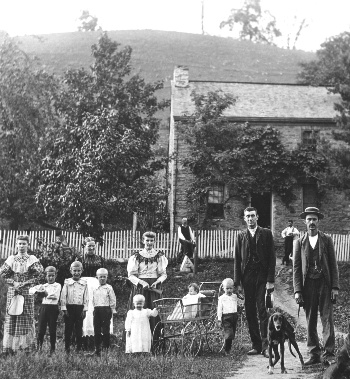 Click here to enlarge above photo and
display names of known family members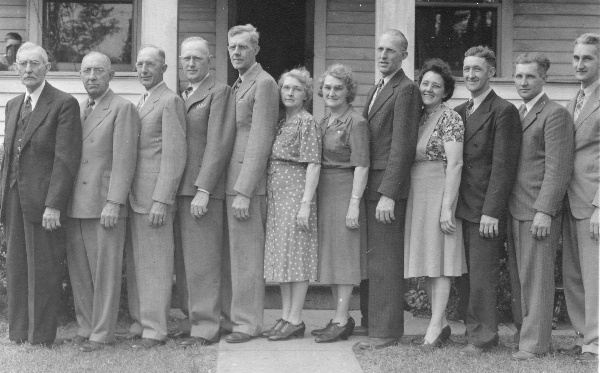 ---
Additional Francis A. Riehle Family Photos at the Perintown Farm
---
More about Francis and Family at his 82nd Birthday Reunion in 1945
---
See also photos of Francis with Clemens and First Sons
---
Photo Credits
The "Contractor & Builder" photograph was provided by Kitsy Osborne (Georgia Katheryn Widmeyer, Cornelia Ann Riehle, Francis Albert Riehle) with all other photos on this page provided courtesy of Mary Riehle Heink.

If you found this article interesting and would like to share with family on social media, please click below and spread the word.