Carl (Karl/Carolus/) Riehle (1835-1908) lived all but the last five years of his life in his native Baden, however he had two brothers and four children who emigrated to America. Brothers Joseph and William Riehle settled in Lafayette, IN and are discussed as a separate Family Segment. Here we discuss Carl and, primarily, his four immigrant children.
Carl moved to Kansas City in 1903 at age 68, shortly after the death of his wife Barbara Falk (1843–1903). Ann, Amalia, Barbara and Carl were four of the eight children of Carl and Barbara. All were born back in Germany and all emigrated to and and spent nearly all of their adult life in Kansas City, Missouri. They had a total of over 20 children, a number of whom were born before Carl moved to Missouri.
Anna Riehle Ehrenreich
Anna was born in 1862 and moved to America 1887. Twelve years later in 1899 she married John Ehrenreich who had arrived from Austria in 1885. It is likely the older two of John's three children were from his first wife who died in 1889. That was before the date we have for the birth of his third and youngest, a daughter Josephine, born in 1893. With Anna's marriage to John in 1899, the details of Josephine's birth remain unclear. Nonetheless, by the 1900 census all three children are shown as a family with John and Anna and here we show them as Anna's children, step or otherwise. If anyone can help to further clarify this we would welcome the input!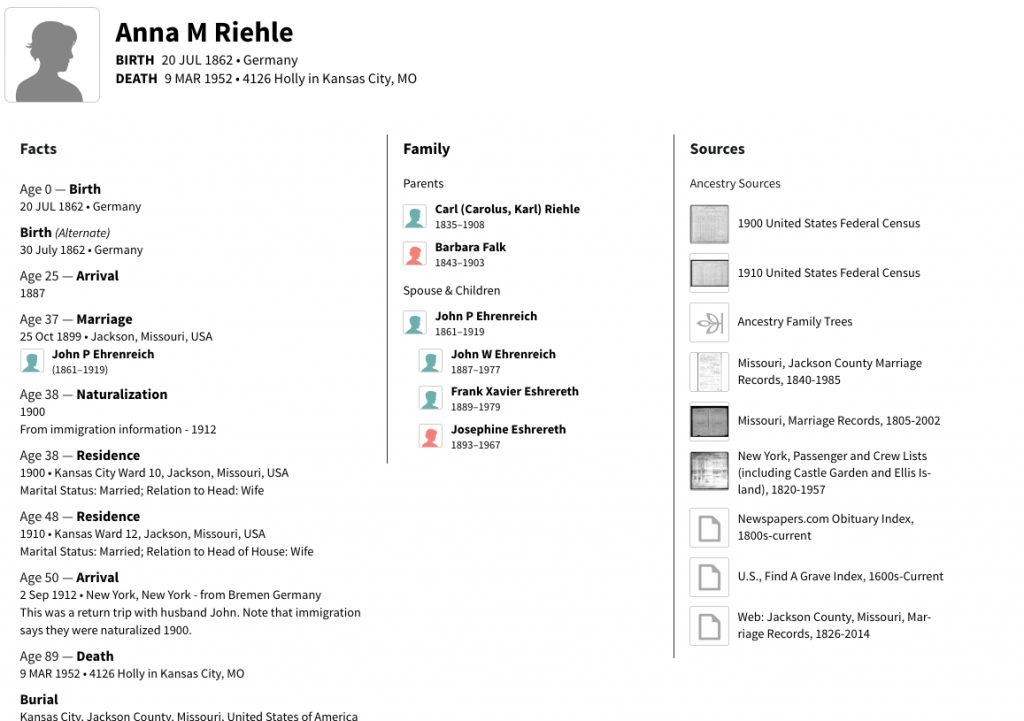 ---
Amalia Riehle Lodde
Amalia was born on the first day of October 1868. By age 21 she was married to Frank Lodde (1867–1927), of similar age and also an immigrant from Germany, perhaps from Prussia according to some Ancestry.com public trees. We don't know when she came to America and her marriage in Kansas City two years after Anna's arrival does not resolve the question of who arrived first or what brought them there.
Amalia and Frank had three sons and a daughter.
Photo: Top: Fred and William Lodde; Middle: Frank Lodde and Amalia Riehle Lodde; Bottom: Hildegarde and Francis John Lodde
---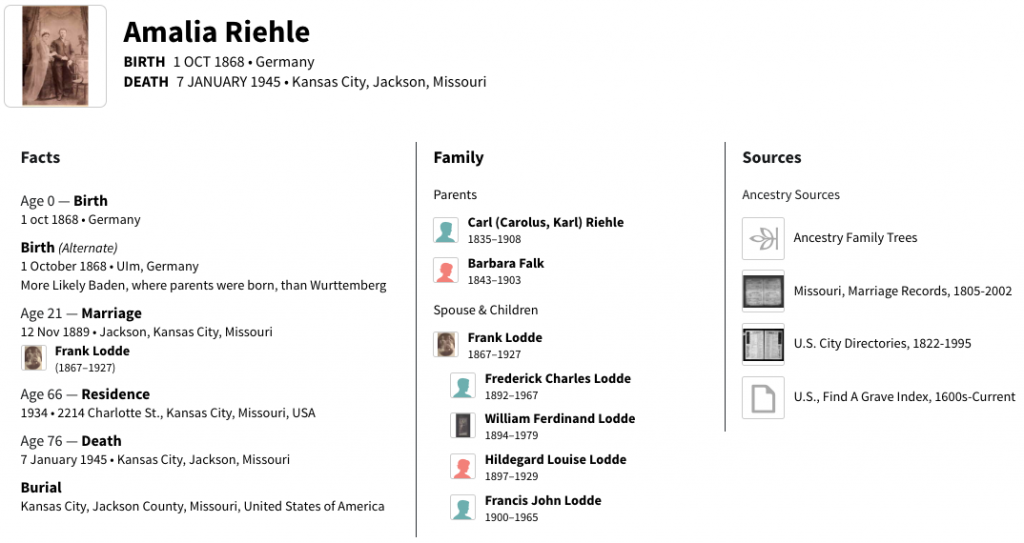 ---
Barbara Riehle Schoen
Barbara was born 19 November 1880 and was married in Missouri the month before she turned 20 to Charles (Karl) Schoen (1875–1962). The couple had 9 children including 3 sons and 6 daughters, all of whom survived to adulthood.
Click on Photo
to Enlarge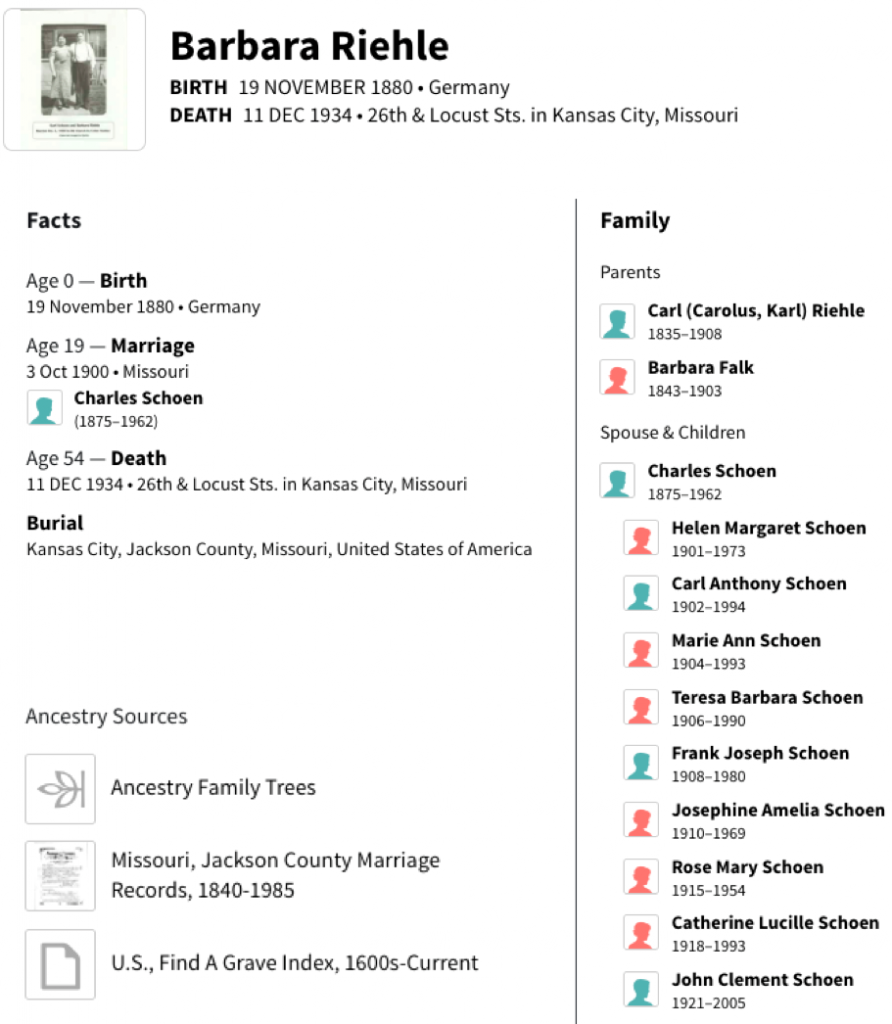 ---
Carl Riehle
Carl was born 18 February 1882, the youngest of the immigrant siblings. According to the 1920 Census he was born in Baden and came to America in 1899 at age 17. He was naturalized as a US citizen five years later. In May 1906 he married Agnes Mary Fisches (1882–1943), who was born in Ohio of German ancestry. Agnes and Carl also had 9 children including 3 sons and 6 daughters, all of whom survived to adulthood except the first who died a week after her birth.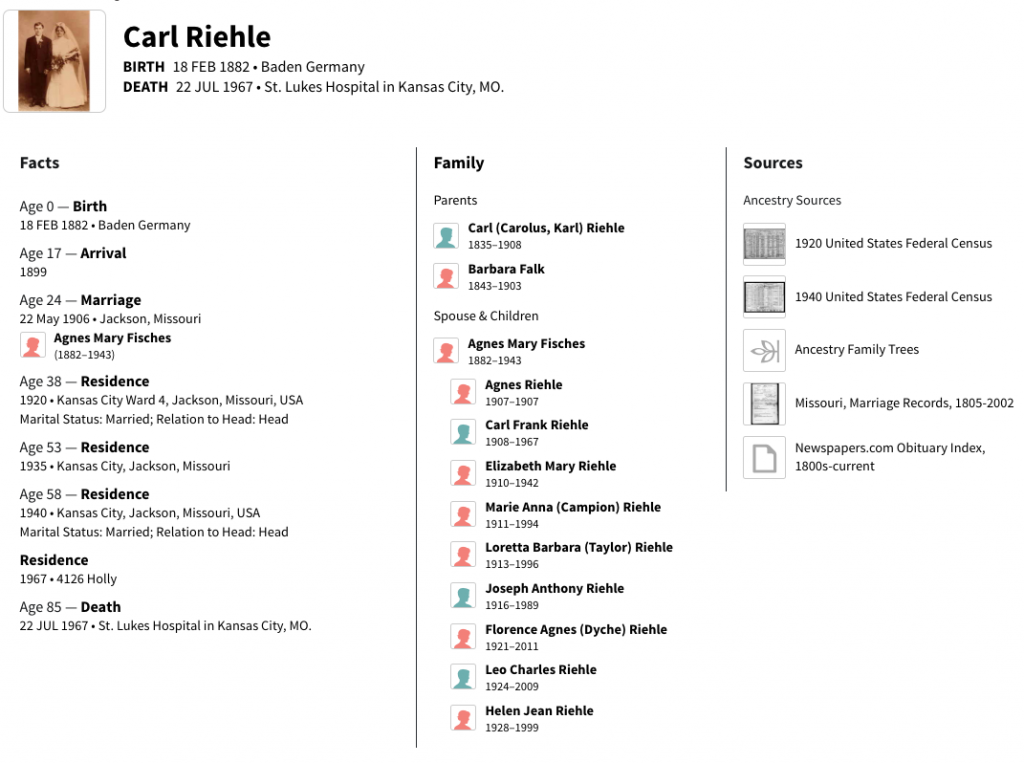 ---
And of course we would very much like to hear from
members of this Kansas City segment of the Riehle family!
We certainly welcome more details and photos.
Please leave a note for us below.
---
If you find this topic interesting and would like to share with family on social media, please click below and spread the word.