This following article is based on an email we received in 2004 which was published on our old site and then unintentionally overlooked as we updated around 2018. Having accidentally rediscovered it in the depths of a hard drive, we are republishing it and including Sebastion Christian Riehle (1807-1883) of Mähringen, Württemberg among our Immigrant Ancestors.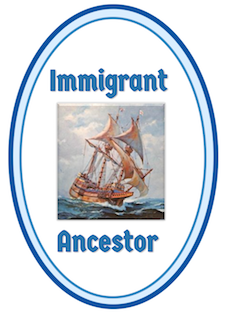 From: Jeffrey Wedding
Sent: Tuesday, January 06, 2004 2:48 AM
To: riehle.net
Subject: Descendant of Kunrad Riehle and Christina Digelen
I recently came across your website, and thought I'd drop a line. I'm a descendant of Kunrad Riehle and Christina Digelen, listed among "More Lost Riehles" submitted by Ruediger Kemmler. The following is part of the info I have on my Riehle roots, much of it compiled by a distant cousin named Walter Zwick who journeyed to Germany and gathered records in 1979, and from information compiled by my late Grandmother Virgina Emma (Ploor) Wedding. My Riehle ancestors lived in the rural area of Mahringen, south of Tubingen, which is on the Necker River, approximately fifty miles south of the city of Stuttgart. Kunrad Riehle was born January 27, 1774, and grew to be a local citizen and farmer. On November 28, 1797, Kunrad married Christina Digelen (born January 16, 1779). They had seven children, all born in Mahringen. Kunrad and Christina both died in Mahringen in 1860, he on May 12, she on February 20. Many of their children, including my direct ancestor, emigrated to the rural counties around Ft. Wayne, Indiana.

In the Tubingen church records examined by Walter Zwick in 1979, the surname was spelled RIELE instead of RIEHLE.

The seven children born in Mahringen of Kunrad and Christina were:

1 – Kunrad Riehle Born (b.) March 17, 1798; Confirmed (c.) 1812; Emigrated (e.) 1866; Died (d.) March 22, 1868.

2 – Waldburga Riehle b. December 11, 1799, c. 1813; d. November 30, 1830 (I believe in Germany, never emigrated)

3 – Anna Margaret Riehle b. March 15, 1802; d. March 19, 1802

4 – Christina Riehle b. September 26, 1803; c. 1817; e. ??, d. 1879 in Bluffton, Indiana.

5 – Anna Margaret Riehle b. October 16, 1805; e. 1866; d. October 13, 1806

6 – Sebastion Christian Riehle (My Ancestor) b. August 19, 1807; c. 1821; e. 1860; d. October 3, 1883 in Yoder, Indiana, buried in St. Mark's Lutheran Church Cemetery.

7 – Anna Margaret Riehle b. September 25, 1809; c. 1823; e. 1860

More info on my ancestor Sebastion Christian Riehle (6th child of Kunrad and Christina):

Sebastion Christian Riehle was born August 19, 1807 near Mahringen in the Kingdom of Wurtemberg. He married Christiana Oberreuter who was born March 10, 1816, also near Mahringen. They were married in Tubingen on January 19, 1837. They had ten children born in Germany. In 1866, they emigrated to the rural area known as Yoder, Indiana, about nine miles from Ft. Wayne. Sebastion died October 3, 1873, and Christiana died October 24, 1871, both in Yoder. They were buried in St. Mark's Luthern Church Cemetary.

Of Sebastion's and Christiana's children, five emigrated to the U.S. in 1866 along with their parents, Sebastion's oldest brother Kunrad and youngest sister Anna Margaret. No records have been found to suggest that Sebastion's oldest son Kunrad (b. February 2, 1838; c. 1855), nor his son Christian Kaspar (b. February 8, 1841; c. 1855), nor his daughter Christiana (b. October 1, 1846; c. 1860) emigrated to the U.S. Sebastion's third child Johann Michael, did emigrate, but not until 1870 (arriving from Hamburg June 15, 1870 – naturalized October 11, 1870).

The Ten children of Sebastion and Christiana:

1 – Kunrad Riehle b. 1838

2 – Chrsitian Kaspar Riehle b. 1841

3 – Johann Michael Riehle b. 1843 (married Mary Yearling, I have more info on this line)

4 – Christiana Riehle b. 1846

5 – Anna Marie Riehle b. 1849 (married a Mr. Franke, I have limited info on this line)

6 – Chritiana Rosina Katherine Riehle b. 1852 (married Mathias Witzeman, I have more info on this line)

7 – Louisa (Louise) Rosina Riehle b. 1855; d. 1941 (married John Schmierer, I have more info on this line)

8 – Margaretha (Margaret) Riehle b. 1857 My Ancestor married Christian Frederick Ploor

9 – Christian Kaspar Riehle b. 1859 (married Anna Marie Facks, I have more info on this line)

10 – Maria Katherine (Katherine) Riehle b. 1861; d. 1889 (married Carl Heinrich [Henry] Schamerloh, I have more on this line, these were the ancestors of Walter Zwick)

Margaret Riehle married Christian Frederick Ploor and lived in Ft. Wayne, Indiana. They had three sons: Frederick Carl (Fred) Ploor, Oscar Ernst Ploor, and Cark Frederick Ploor. Only Carl married. Christian Frederick Ploor died, and Margaret remarried to William Ersig, who was very close to Margaret's three sons. Carl Ploor married Emma Charlotte Leucht. Their first child, Robert, died in infancy. The second child Virgina Emma Ploor, was my paternal grandmother.

I'm attaching individual photos of Sebastion and three of his daughters Anna (fifth child), Margaret (eighth child), and Katherine (tenth child). Also photos of Margaret with Louise (seventh child). The photos attached are low res versions to make for smaller file sizes: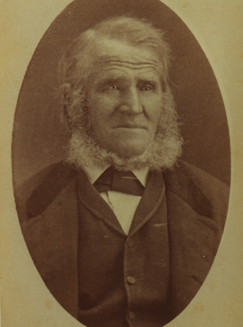 I have much more info and many more photos of Margaret's family and descendants. As I get some of this information and photos into the computer, I'll send updates.

Sincerely,
Jeff

Jeffrey Wedding
a lost Riehle descendant
Over the intervening years Jeff's email address has changed and I have been unable to reach him. If anyone can put us in touch please do.
We have no other contacts in this line of the Riehle family so as always, we would love to hear from this segment of the family. Jeff did not go into this above but Johann Michael Riehle and Mary Yearling did move to America and had a family of multiple generations so again, please let us know if you have more information on this family segment.

Family Tree for Sabastion Christian Riehle
and other Mähringen Riehle Families
Relationship: Sebastion Christian Riehle (1807-1883) and
Johann Adam Riehle (1864-1926)
More Riehle Families from the Mähringen Area

If you find this topic interesting and would like to share with family on
social media, please click below and spread the word.