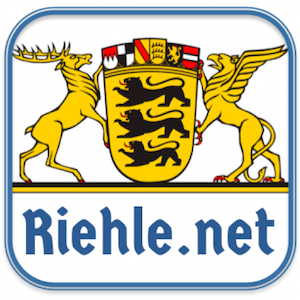 We use a crest, coat of arms, or just call it a logo for our website, which builds on the so-called "greater" coat of arms for the modern German state of Baden-Württemberg. Most of the Riehle Immigrant Ancestors we have been able to identify came from the old German states of Baden or Württemberg or adjacent territories and although a 20th century construct, the coat of arms of the modern state of Baden-Württemberg is based on historic symbols that relate rather nicely to our German ancestry:
The central element of the coat of arms, essentially the "lesser" coat of arms for Baden-Württemberg, represents three lions and is based on the historic coat of arms of the region that has periodically been know as Swabia. Although it was comprised of various parts of modern southwest Germany, Swabia loosely represents much of the areas where the Riehle name seems to have come into use during earlier centuries.

The "supporters" on the greater coat of arms are a stag to the left representing Württemberg and a griffin to the right representing Baden.

The greater coat of arms also incorporates six smaller coats of arms along the top of the Swabian crest, with the two at the center somewhat enlarged relative to the others. These represent six contributing historic regions as follows (left to right):
| | |
| --- | --- |
| Franconia – this historic area is now mostly incorporated into modern Bavaria, however the northwestern portion of old Franconia is now in the northeastern part of Baden-Württemberg. | |
| Hohenzollern – a region north of lake Constance named for the Hohenzollern Castle, the ancestral seat of the House of Hohenzollern. Formerly surrounded by the states of Baden and Württemberg it is now part of Baden-Württemberg. | |
| Baden – The third shield shows the coat of arms of Baden, a red diagonal band on a golden shield (see our article with larger Baden coat of arms). | |
| Württemberg – Stylized deer antlers on a golden field are taken from the old Württemberg coat of arms. | |
| Pfalz – The fifth shield shows the coat of arms of the old Elector Palatine (the Rhineland-Palatinate or the Pfalz), small parts of which are included in the modern Baden-Württemberg state. | |
| Austria – This shield represents the house of Habsburg, the family of former Holy Roman Emperors, Spanish Kings, Austrian Emperors, etc. Certain areas of the modern Baden-Württemberg state, mostly along the Rhine, were at one time held by this far-flung dynasty. | |
For more information see Wikipedia, our primary source for this article
If you find this topic interesting and would like to share with family on
social media, please click below and spread the word.