A Riehle cousin, Ryan Riehle of Rochester, NY, left a comment for us on the Riehle Family Segments page identifying his Immigrant Ancestor as Joseph Eugene Riehle. Based on the information we have, we believe the following matches his identity: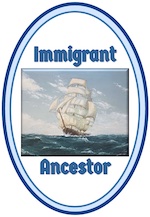 Ryan is still researching his ancestry but it seems clear this Joseph was, as indicated above, the son of a Franz Joseph Riehle and was born in Erlach, Baden, about 6 miles from Wagshurst at the end of 1818. His mother was Theresia Lauk/Laug/Lauck. We know of another Franz Joseph Riehle born in Wagshurst, also in the second half of the 18th century, but it appears he was born considerably earlier than Joseph Eugene's father would have been. Moreover, another citation appears a more likely match as the above Joseph's father: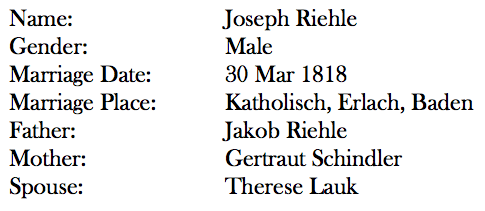 So Joseph E. Riehle's father was likely not the Frantz Joseph Riehle who was born and died in Wagshurst (1759-1838), son of Bartholomäus S. Riehle (1732-1798) but was a man with the same name. At six miles distance between Wagshurst and Erlach, it is highly likely that they were related and may have known each other. In fact, Joseph initially settled in Buffalo and his two brothers settled in Cincinnati, perhaps a coincidence given that so many Germans were moving to these towns during this timeframe, or perhaps they were in touch with Riehle family members from Wagshurst who moved to those same cities around the same time.
No matter, Joseph's story is nicely documented below and we will allow that source to tell the story of his move to America:
Among the earliest settlers of the town of Allegany was the family of Joseph Riehle, Sr., an immigrant from Germany. To avoid confusion it should be stated that, during the past century and a half, different spellings of this name have developed. The original name was Riehle. But at least two other spellings have appeared. These are Rehler and Riehler.

A bit of background may be interesting. In the first half of the nineteenth century, about 1837, Joseph Riehle had some trouble in his homeland. Like many present day young people, he thought that running away would solve the problem. Even though his difficulties were not terribly serious, he nevertheless set sail for America. On the same ship on which he took passage was a family by the name of Stean. The Steans were also determined to make a home in the new world. One of the Stean children was Otilla (Adeliade), a lass of eighteen years. The Steans were sympathetic toward the lonely young man and they invited him to join their family group. In those early days sailing vessels provided only the crudest of facilities, with each family group taking over some small portion of the common passenger floorspace. So Joseph was glad to be a part of this warm family group. This was probably the only pleasant feature of his journey. The voyage was a stormy one of several weeks. One difficulty was the usual lack of fresh water. Travelers in those days were accustomed to taking a keg of wine along with them for use as a beverage in place of water. On this voyage the Captain confiscated the wine for the use of himself and his crew. What substitution the family made for a beverage is not known.

Joseph Riehle and Otilla Stean became friends and soon fell in love. Shortly after landing in New York City and traveling with the Stean family to Bualo, NY, they were married. The Steans settled in Buffalo where they opened a leather business on Main St. This business prospered until the 1970's when the last of the Steans retired.

Wishing to settle on high land to avoid flooding, Joseph and Otilla settled on a farm in Eden, NY, where several of their thirteen children were born. The family's next move was to the Lower Birch Run Road, in Allegany, where they had purchased a tract of land from the Holland Land Company. Here the rest of the thirteen children were born, ten of whom lived to maturity.

1. Joseph, Jr., 1845-1903, m. Mary Nenno;
2. Mary, 1847-1928, m. Fred Forness;
3. Andrew Rehler, 1852-1918, m. Margaret Felt;
4. Catherine, ?-1895, m. Joseph Forness;
5. Michael, 1854-1932, m. Teresa Lauser;
6. Frances, 1855-1900, m. Louis Nenno;
7. Caroline, 1856-1940, m. Peter Forness;
8. Frank, 1864-1948, m. Jenny Cullen;
9. William, 1867-1942, m. Teresa Zister;
10. Delia, 1869-1954, m. Frederick Schnell.
Taken from: Our Allegany Heritage: 1831-1981, A Sesquicentennial Review: Edited by Islay Nicholson Bergreen and Thomas J. Schaeper, Published by the Town of Allegany, Allegany, New York, 1981, Printed by Citizen Printing House, Allegany, New York.
Ryan as well points out that various spellings of the surname have been used and that Andrew's line in particular retained a spelling different than his own.

Ryan Riehle's ancestry:

Ryan Riehle
|
David Riehle b.1964– father
|
Alan W Riehle b.1938– grandfather
|
Norman Francis Riehle 1901-1974 – g-grandfather
|
William J Riehle 1866-1942 – 2nd g-grandfather
|
Joseph Eugene Riehle 1818-1892 – 3rd g-grandfather
|
Frantz Joseph Riehle 1791–1826 – 4th-grandfather
–
We have only unverified information regarding Joseph Riehle's ancestry beyond Frantz
Joseph so if you have additional information or questions, please comment below
–
We would like to get Y-DNA data from a male Riehle descendant of this family in order to determine if there is a match to Riehle males from the Wagshurst, Offenburg or other Riehle family lineages

Joseph had two Brothers, Martin and Armund
who are also Immigrant Ancestors
If you find this topic interesting and would like to share with family on social media, please click below and spread the word.