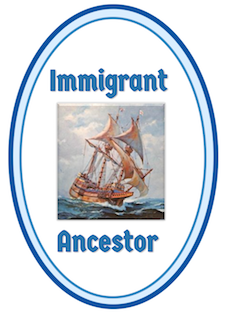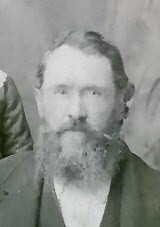 Joseph Riehle was born in Baden in 1831, arriving in New York City in 1854. Records indicate that he came from Sasbach, Achern, roughly 22 km south of Baden-Baden. His wife and the mother of his seven (7) children was Victoria Schöettgen, born in 1834. Although Victoria was from the same town, their first child was born in New York in 1859 so we don't know if they were married in Baden or if she followed him sometime after his arrival. Joseph was also naturalized as a US citizen in New York in 1859.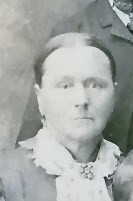 By the time of the birth of their next child, Charles Anton Riehle in 1863, the family had moved to Lafayette Indiana. As mentioned, Victoria and Joseph had seven children. All of them survived their early childhood, although two of their sons, Frank (16) and Henry (19) died on July 20, 1890. We have not been able to determine the cause of these deaths and hope that some of our readers can help with additional information.
Regardless, the other children all married and had many children of their own. Generations of the family stayed on in Lafayette, where the great-grandson of Joseph and Victoria, James F. Riehle, would preside as mayor for 25 years (1971 – 1996).
Joseph had two brothers who also came to America. Wilhelm/William Riehle (1837-1914) was more than six years younger than Joseph. He married Johanna Didmair (1843-1926) in Sasbach (Achern), Baden in 1862 but joined Joseph and his young family in Lafayette by the time their first child, Joseph Frederic Riehle, was born less than 10 months after their marriage. They went on to have a total of eight children, but only five survived to adulthood with two of these dying in their 20s. Of the remaining three, only two had children of their own. Although there were a number of grandchildren, only one that we are aware of had the Riehle surname and he in turn had no children of his own.
The second immigrant brother was Carl (Karl/Carolus/) Riehle (1835-1908). While Carl spent most of his life back in Baden, in 1903 at 68 years of age he moved to Kansas City MO where he had four immigrant children with families of their own. We discuss Carl and his immigrants children on another page.
We now have some very helpful connection with this Riehle Family Segment (see comments below) but none from Joseph Riehle's descendants in Lafayette so we would very much like to hear from Lafayette Riehle family members to get more color on the family there, past and present. Please reply below.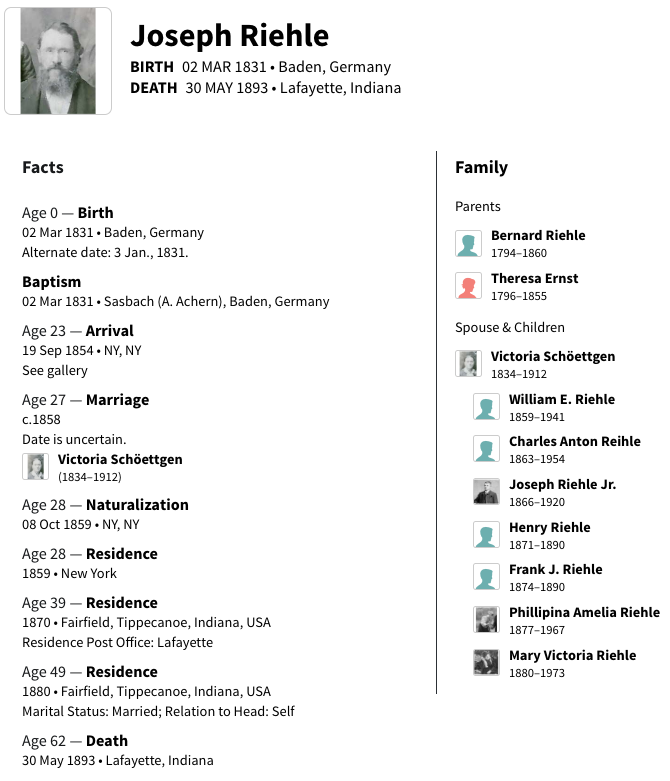 Sources: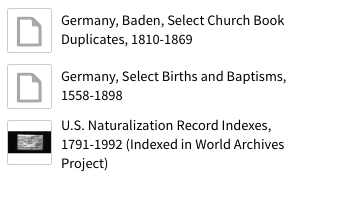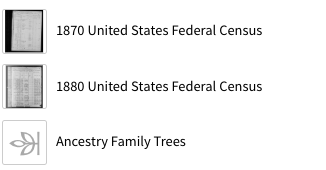 Link to Ancestry.com tree:
Joseph Riehle (1831-1893) Achern, Baden to Lafayette IN
---
Help Wanted for Y-DNA Research:
All-Male-to-Male Riehle Descendants of Joseph Riehle of Baden Germany (1831-1893)
---
If you find this topic interesting and would like to share with family on
social media, please click below and spread the word.