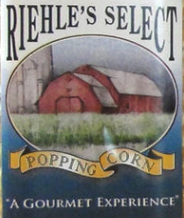 Family of Wagshurst Immigrant Ignaz Henry Riehle Provides Gourmet Popcorn Online from Henry's Southern Indiana Farm
We periodically do Internet searches on the Riehle name to see if we can find anything new on the family. Recently we found a link to Riehle Select Popcorn. Pursuing the "Contact Us" page on the website we were able to connect with Lisa Riehle who owns the business with husband Eric. We had been in touch with Lisa previously but hadn't noticed her popcorn email address!
Their business is located on part of the farm originally owned by Eric's great-great-grandfather Ignaz Henry Riehle. Henry's family is currently shown in the featured photo on the home page of this Riehle.Net website (also shown right). The photo depicts the annual wheat harvest with the neighboring Schneider family. Eric is a descendant of Henry's son Nicholas (waving in the photo) and Nick's wife was the neighbors' daughter, Mary Anna Schneider.
All you Riehle folks need to order a batch of this popcorn. It's a great conversation piece and who doesn't like good popcorn?
---
Riehle Select Popcorn Website
~
Order Popcorn
~
About Ignaz Henry Riehle
---
If you find this topic interesting and would like to share with family on
social media, please click below and spread the word.