Joseph, William, Andrew, John and Felix Riehle were all sons of Leonard Riehle and grandsons of Felix Riehle. Felix and Leonhard settled in the town of Morris in Ripley County Indiana, coming from Wagshurst, Baden, Germany in 1847. The 1880 census had all five brothers living back in Indiana but sometime after this the brothers moved from Indiana to Wisconsin and we pass along this passage from the Rietbrock Centennial Book (1880-1980):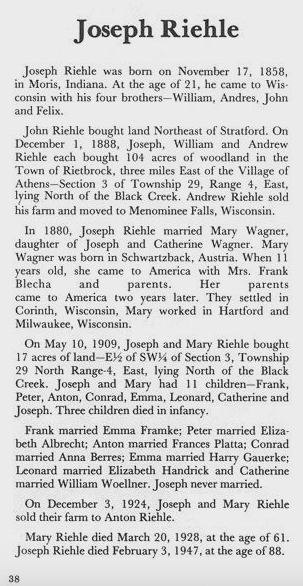 Notes:
Joseph Riehle and Mary Wagner were actually married April 21, 1890
Anton Riehle (1894-1977) who purchased their farm in 1925 was the son of Joseph Riehle and Mary Wagner Riehle

As mentioned above, the brothers were all sons of
Leonhard Riehle and Grandsons of Felix.
See Ancestry for Felix Here
---
Dennis Riehle is a Grandson of Joseph
and literally "wrote the book"
on this segment of the family
---
James Sorenson, grandson of Frances Riehle,
great-grandson of William Riehle, shares a family narrative
about Frances and her husband Alfred Hennig

Rietbrock is a town in Marathon County, Wisconsin. It is approximately 15 miles west of Wausau, WI, roughly in the middle of the state. Also, they consider themselves to be in the middle of North America with the latitude of 45°N and longitude of 90°W, as is explained on the sign illustrated on the cover of their Centennial Book. (See also)
The above text and the Rietbrock Centennial Cover were contributed to Ancestry.com by Ancestry user "hawkmfg' in 2014.
If you find this topic interesting and would like to share with family on
social media, please click below and spread the word.