Robert Arthur Riehle (1920–2012) served in the Pacific Theater during World War II as a bomber pilot in the US Army Air Force. He achieved the rank of First Lieutenant by the end of the war and although later offered the rank of Captain as a post-war squadron commander, this non-flight assignment was not of interest to him. His active service spanned the period from 1942 to 1946, including basic, officer, and flight training programs.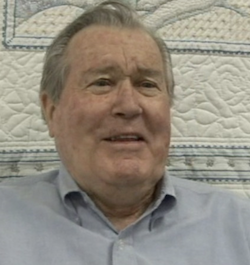 An extensive interview as part of a personal historic narrative project was conducted by Tracey McCullough and Cindy Mahaffey at the Clermont County Ohio Public Library in 2001. We encourage anyone interested in his story to click on the link above.
Robert's Immigrant Ancestor was Armand Riehle (1823-1899) who came from Erlach, Baden, a small hamlet about 8 km from Wagshurst. We believe there is a very good chance this branch of the family shares a common lineage with the Wagshurst Riehle lineage and if you are a direct, all male-to-male descendant of this line with the Riehle surname you can easily help us determine if that is the case. Please leave a comment below if you wish to help.
More on Military Service:


Aircraft Piloted: B-24 Liberator
Theater: Asia/Pacific/Philippines
Accommodations:

Purple Heart
Asiatic Pacific Ribbon with 3 bronze stars
Philippine Liberation ribbon with a bronze star
Known Riehle Ancestry:
Jakob Riehle (1760– unknown)
b: 1760 • Baden
Frantz Joseph Riehle (unverified) (1791–1826)
b: 14 May 1791e – Erlach, Baden
d: 22 Jan 1826 – Erlach, Baden
Armand Riehle (1823-1899)
b: 20 Oct 1823 – Erlach, Baden
d: 16 Oct 1899 – Near St Bernard, OH
Frank Amand Riehle
b: Jan 1862 – Cincinnati, OH
d: 25 March, 1925 • San Diego County, California
Frank Amand Riehle
b: 08 Jul 1888 – Cincinnati, Hamilton, Ohio
d: 10 Jun 1957 – San Diego, CA
Robert Arthur Riehle
b: 11 Jul 1920 – San Diego, California
d: 18 Oct 2012 Cincinnati, Ohio

If you find this topic interesting and would like to share with family on
social media, please click below and spread the word.