Riehle.net is a website established and maintained as a place to share Riehle family history and to communicate with other family members, however distant. We generally focus on those with the Riehle name, though some can trace their history back to ancestors that spelled the name differently and so our story includes some with these variations. We hope to share, or facilitate the sharing of certain genetic information and connections, but without getting too personal about it. Currently we maintain a number of family trees on Ancestry.com but going forward we hope to review and, as appropriate, endorse publicly available family trees maintained by members of the various distinct Family Segments.
The site was begun in 2001 and is still managed and edited by Nick Riehle1. It is hosted by his daughter and son in-law, Jennifer and Cameron McFarland.
~ ~ ~ ~ ~ ~ ~ ~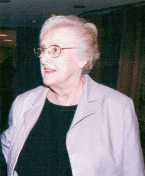 Much of our interest in documenting information about the family and much of the earliest information available to us came through our association with Joan (Riehle) Ruse (1931-2013)2. Joan was a very energetic student and researcher of Riehle family history, and published the die Familie Riehle Genealogical Newsletter from 1981 to 1986. With her permission, we had previously used the Die Familie Riehle moniker on many of our pages and while we now publish all of our pages as Riehle.net, we continue to show Joan's logo when reprinting articles from her original newsletters.

~ ~ ~ ~ ~ ~ ~ ~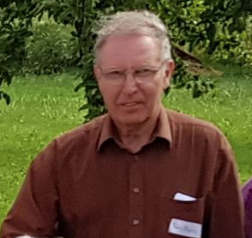 Hans-Martin Riehle has been a contributor to Riehle.Net since 2003, providing insights about the Riehle surname, Riehle's in the Württemberg area, and Riehle emigrants to America. He also provided us with our original Württemberg Riehle Family Tree, to which we have been able to add detail related to American immigrants from the area.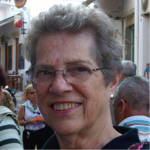 We obtained countless photographs of the Clemens/Francis line from Mary (Riehle) Heink (1930-2019)3. Mary was always active with family events (see Riehle Family Reunion 2002) and was great to work with.
~ ~ ~ ~ ~ ~ ~ ~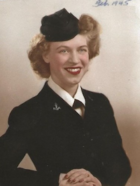 Dorothy Riehle Call4 (1923-2021) was one of our longest-standing contributors at Riehle.net, providing our earliest and most significant reference for the Conrad Riehle Family of Iowa. She was born April 29, 1923 in Cresco, Iowa and served with the Navy in the later years of World War II. She was discharged from the Navy in July 1945, shortly after marrying Marine Sgt. Robert Louis Call in Washington D.C. Sgt. Call had recently been honorably discharged from the Marine Corp following injuries sustained during his service at Guam and Bougainville in the Pacific. The couple moved back to Robert's home state of Indiana after the war where in 1949 they both received bachelor degrees in education from Indiana State University. They then moved to Elko, Nevada where they both had successful teaching careers. They raised three children and both Dorothy and Robert survived to age 98.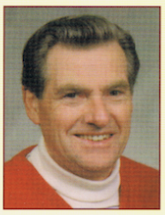 More recently we have been in touch with Dennis Riehle5 who compiled a book entitled Riehle Family History 1697-1999. The book is a wealth of information, particularly with regards to the Riehle families of Wisconsin who descended from five brothers born in Indiana, descendants of Leonhard and Felix Riehle who in turn immigrated from Wagshurst, Baden. We have more information on Dennis's book and copies are available for those interested. In 2022 Dennis also agreed to to Y-DNA testing, confirming a match with his 6th cousin once removed and triggering the establishment of a Wagshurst Y-DNA Haplogroup.
We hope you enjoy the site, share it with other family members and participate actively. The site is more useful (and certainly more interesting to edit and maintain) with such participation.

Riehle Ancestry for above contributors:


If you wish to share the site with other family
members via social media, please click below.