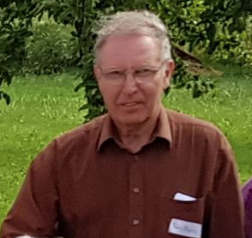 Ancestry & Contributions to this Site
Hans-Martin Riehle has been a contributor to Riehle.Net since 2003. His ancestry and contributions are provided below, with virtually all ancestors having lived in or near Mähringen, Württemberg, which is the area where Martin lives.
Ancestry:
Jacob Rielin (1617-1693) Mähringen
Johannes Riehlin (1649-1700)
Hans Jacob Rielin (1679-1745)
Johannes Rhüle (1701-1752)
Hans Jacob Rielin (1727-1802)
Johannes Riehle (1750-1788)
Johann Jacob Riehle (1775-1842)
Johann Michael Riehle (1805-1875)
Johann Martin Riehle (1851-1901)
Johann Martin Riehle (1882-1949)
Karl Riehle (1924-1965)
Hans-Martin Riehle (b. 1957)
---
Contributions:
Riehle German Immigrant Origins
Emigrants Lost (Later Found) from Mähringen, Württemberg
Johann Jakob Riehle from Old Württemberg to NY
---
Hans-Martin also provided the basis for our
Württemberg Family Tree
to which we have been able to add certain US immigrant
---
If you find this topic interesting and would like to share with family on
social media, please click below and spread the word.