Numerous Notre Dame Athletics Luminaries Pay Final Respects at Notre Dame Funeral Mass
(From Notre Dame University press release, 2008)
A long list of current and former University of Notre Dame athletics coaches and administrators came to pay tribute to longtime athletic chaplain and Notre Dame Monogram Club executive director Rev. James Riehle, C.S.C.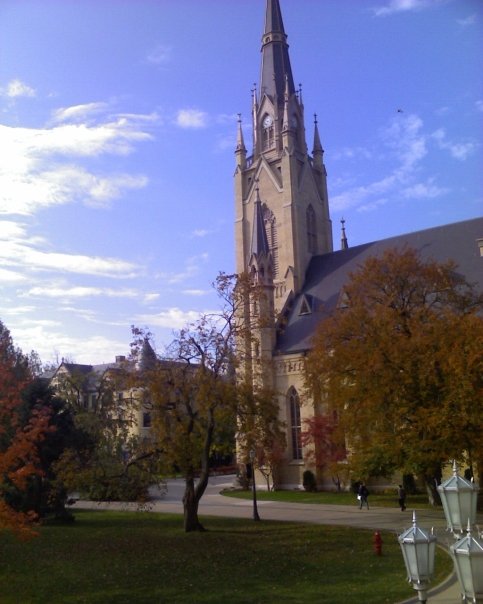 A funeral Mass for Fr. Riehle was celebrated November 3, 2008 at the Basilica of the Sacred Heart on the Notre Dame campus.
Among pallbearers were former Notre Dame hockey coach Charles "Lefty" Smith (1968/69-1986/87), Notre Dame assistant athletics director and former assistant football coach Brian Boulac, former Irish football captain and former Monogram Club president Jim Carroll, former Monogram Club president and former Irish football player Mike Heaton, and current Monogram Club executive director Jim Fraleigh.
Serving as honorary pallbearers were former Notre Dame football coaches Ara Parseghian (1964-74), Gerry Faust (1981-85) and Lou Holtz (1986-96), current Irish football coach Charlie Weis, former Irish men's basketball coach Richard "Digger" Phelps (1971/72-1990/91), current Notre Dame men's and women's basketball coaches Mike Brey and Muffet McGraw — and former Notre Dame athletics directors Dick Rosenthal (1987-95) and Kevin White (2000-2008).
Others in attendance included former University president Rev. Edward Malloy, C.S.C., former Monogram Club president and Irish football captain Jim Lynch, former Monogram Club president and former Irish volleyball player Julie Doyle, former Monogram Club executive director and current senior associate athletics director Bill Scholl, former South Bend mayor and Indiana Governor Joe Kernan (who also played baseball at Notre Dame).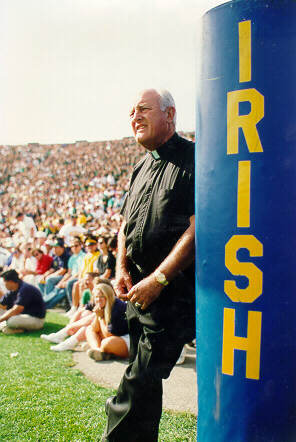 Former Notre Dame president Rev. Theodore M. Hesburgh, C.S.C., spoke at the Mass, describing how he first met Riehle on the second floor of Badin Hall (where Hesburgh lived) when Riehle first returned to Notre Dame as a student after World War II. Hesburgh talked about breaking the news of the death of Riehle's father to him – and how Riehle, as the University's "prefect of discipline," played a major role in maintaining peace among students on campus during the Vietnam war years.
"Jim also was enamored with the wonderful tradition of sports at Notre Dame–and he was the greatest friend our athletes had. I can't tell you how many medals of Our Lady he distributed to our athletes before games. There was no question about his love for our students, their competitive nature and their spirit." said Hesburgh.
---
If you find this topic interesting and would like to share with family on
social media, please click below and spread the word.