Albert Joseph Riehle was the eldest child of Francis Albert Riehle (1863–1951) and Anna Catharine Rapp (1866–1916). Born 11 December 1886, Albert married Johanna Mary Entner on 9 June 1909. Johanna was the daughter of Jacob Entner (1851–1914) and Alberta Josepa Morscher (1856–1939). Albert and Johanna had eight children and 39 grandchildren.
In 2023 Albert and Johanna's grandson Robert (Bob) Chambers, with the help of some cousins, compiled a list of the grandchildren of Albert and Johanna which is presented below. The grandchildren are listed under each of Albert and Johanna's children and spouse: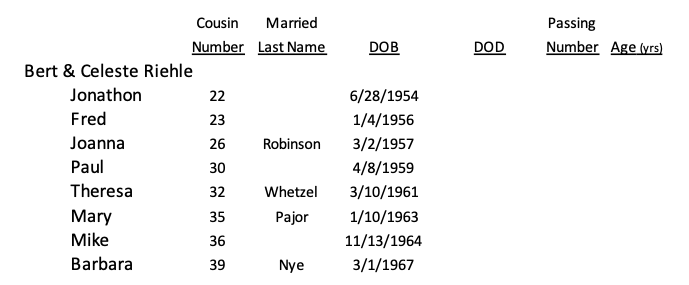 ---
If you find this topic interesting and would like to share with family on social media, please click below and spread the word.