Mom's WiFi at Sem Haven: [contact Nick]
(old from Sem Terrace: SpectrumSetup-03 – p/w: objectwagon687)

Authorized picture frame users (with registered email addresses) can add photos by emailing them to NickRiehle@mynixplay.com. Contact Nick to register.

Try not to unplug or shut off the picture frame. If for some reason it needs to be shut off for a period please call or text Nick (see below) or use the remote to turn it off. Unplug or shut off if necessary but please remember to turn it back on or plug it back in. We can control much of its operation remotely but can't plug it in or turn it on!

Although seldom necessary (see below regarding automatic shut-off and resume), to manual turn on the picture frame use the remote – see user diagram below.

The picture frame will shut off each evening around 7:30 and come back on each morning about 7:30. This can be changed remotely if someone wants to suggest better timing. The intent is to make sure it goes off after dark if she wants to sleep. The sound will be kept off at all times.

The picture frame will shut off after several hours with no motion near the frame and come on (during daylight hours) if there is renewed motion nearby. If it goes off unexpectedly and does not go back on use the remote to turn it on. And of course make sure it is plugged in!

The remote control was left on Mom's TV table. It is probably important not to lose it! The picture frame will work without it but we may need this to set up a different wifi connection. See below for remote control user diagram.

When moving, just relocate the picture frame:

Plug it into an electrical outlet and use the remote to turn it on. This will work but won't pick up new pictures unless connected to to WiFi. That can wait until someone has a chance to connect.
To connect to WiFi, if available, logon to WiFi with the remote by pressing the "settings" button on the remote (bottom-left button showing a gear icon – see "J" on the diagram below) and scrolling down to "network" settings where you can find the available WiFi signals.
If no WiFi is available, I was able to use my iPhone Hotspot for this so while a regular WiFi connection is best, using a hotspot will at least allow occasional updates. Let me know if that feature is unavailable.
Call or text Nick at 704-807-6525 for help.
~ ~ ~ ~ ~ ~ ~ ~ ~ ~ ~ ~ ~ ~ ~ ~
User Diagram for Remote: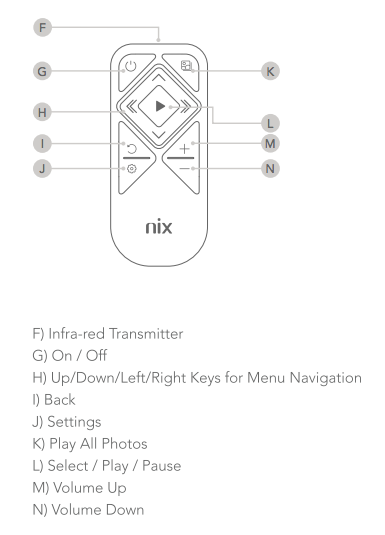 User Diagram Regarding Sensors: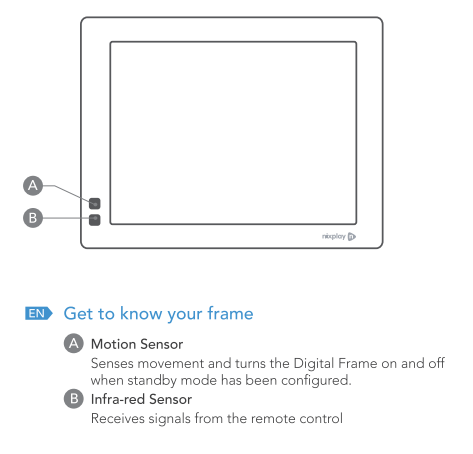 ~~~~~~~~~~~~~~~~~~~~~~
Link to Martha's 100th Birthday Page

Link to Martha Riehle's Ancestry

~~~~~~~~~~~~~~~~~~~~~~